Enchanted Oasis
Is there anything quite as blissful as an amber sunset as an opera of waves gently washes away the stresses of your day?  Equally great is the calm you embrace as you settle into your newly designed home adorned with every detail of your dreams.  The dream begins as you approach your Bermuda-style home reflecting the 17th century and refined to blend with a coastal lifestyle and the conveniences of today.
The ground level features a charming, gated entry with a view straight to the water, initiating calm.  The residence parking is accomplished by a three-car garage with additional large openings to the pool deck and porches, doubling as extra entertaining space for guests.  Continuing through the courtyard to the rear porches, you are received by a private elevator to carry you to the home's main level.
The elevator door opens, and expansive windows and a breathtaking view immediately greet you.  Enter the Lounge Area, a small semi-private area for greeting guests and capturing pictures with a beverage from the bar or offering a cozy space for reading.  Continuing into the main living area, the open design features high vaulted ceilings to enhance the proportion as you look across the Family Room and Banquette Dining through to the Kitchen focal point, including a primarily hidden pantry and coffee station. Indeed, a view to promoting a satisfied sigh of relief.
The home offers four bedrooms and four bathrooms.  The Main Suite has two large walk-in closets, a morning bar, a water-view desk area, a luxury bathroom with a free-standing tub, and walk-in shower, double vanity with plenty of storage, and a private entrance to a Light Hallway with a private office flooded with natural daylight.  The Main Suite also has direct access to the Laundry Room for privacy.
An elevated walkway to the Great Room separates the home's main living and entertainment spaces.  The activities are accommodated by a Great Room with an arcade, ping-pong table, and darts for the competition minded.  A Kitchen and Bathroom are part of the space for convenience.  The Great Room opens out to a covered Balcony with a fireplace and a view across the swimming pool to the water.
Suppose you need more excitement than the Balcony area. In that case, a spiral stairway to a Covered Terrace affords your guests a twenty-eight-foot by thirty-six-foot size of open entertainment with an elevated view of the water.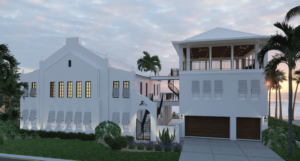 ---